1 Year Faded Tour at The Barbershop!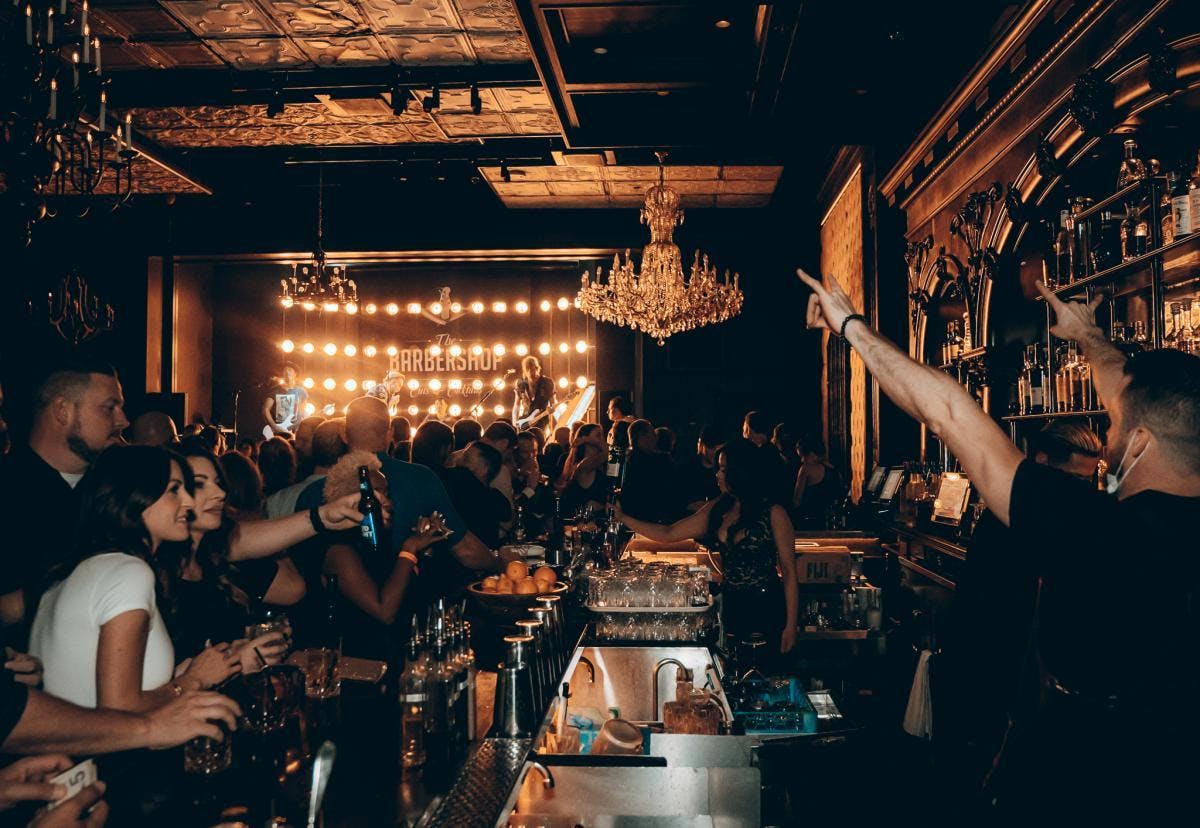 Are you ready to party? Do you love karaoke?
If you answered yes to the questions above, you're gonna love the 1-Year Faded Tour at The Barbershop!
We've officially been hosting our popular Faded Karaoke event for a year now, and it's time to celebrate this amazing milestone. In this post, you'll learn all about the spec
THE BARBERSHOP: A LAS VEGAS BAR UNLIKE ANY OTHER
There are a ton of bars in Las Vegas, but none of them are quite like The Barbershop.
The Barbershop is a throwback to the Prohibition era — a concept bar that combines a speakeasy setting with plenty of unique offerings.
We take the speakeasy concept seriously — the bar has a secret, unassuming entrance that makes it feel like a special discovery from the get-go.
This adds an element of magic to the experience, especially since we're nonetheless centrally located — right in the Cosmopolitan, one of Vegas's most notable and recognizable resort casinos.
Once you're inside, you'll find a vintage barbershop aesthetic, but it's not just for show — we actually have a functioning barbershop where you can get an expert cut, trim, or other deluxe services.
But unlike your average barbershop, we also have a full bar featuring a ton of innovative drinks. Our talented bartenders can make your favorite mixed drink, a specialty cocktail, or some truly incredible global varieties of whiskey (or whisky, depending where it comes from!)
FADED KARAOKE: A LAS VEGAS SPEAKEASY SENSATION
Eclectic? Yes indeed. But The Barbershop is not just a unique bar with a cool concept … It's also an entertainment hotspot.
We have a number of regular acts in regular rotation for live music, and we're considered destination-worthy for our Faded Karaoke weekly event.
What's Faded Karaoke and how is it different from any other karaoke?
Well, every Tuesday from 10 p.m. — 1:30 a.m., you can go for the karaoke gold backed with a full band! It's a lot more exciting than some cheap music track in the background.
Our house Karaoke band, the Busker Kings, lets you live out your rock n' roll fantasy, right on stage … where you belong.
To celebrate an official year of Faded Karaoke awesomeness, we're hosting a very special event: the 1 Year Faded Tour!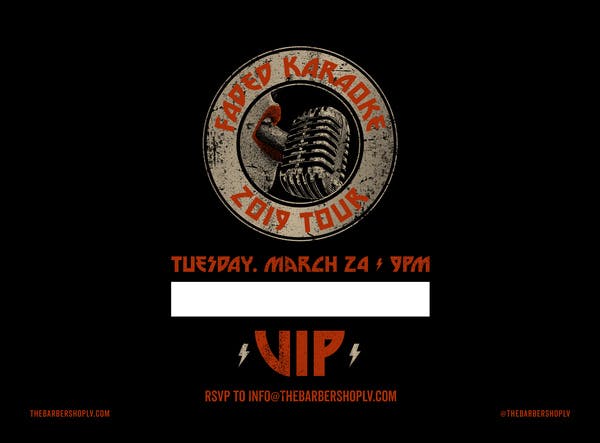 1 YEAR FADED TOUR: A KARAOKE EXTRAVAGANZA AT THE BARBERSHOP
On March 24, we'll be hosting an incredible karaoke extravaganza to celebrate a year of Faded Karaoke.
The name of the event is inspired by vintage band tees — you know, faded! But don't worry … the action is anything but faded.
We'll have 1 Year Faded VIP wristbands, drinks, and new and improved song selections!
Oh, and we're partnering up with some stellar brands like Grey Goose, Patron Tequila, and Wild Turkey, so you can bet your bottom dollar the drinks are going to be just as great as the entertainment!
Here are the details to know:
Date: Tuesday, March 24
Time: 9 p.m. until the party's over!
What it is: A celebration of The Barbershop's Faded Karaoke, featuring new songs, drink specials, and more!
JOIN US FOR AN AMAZING KARAOKE EVENT!
At The Barbershop, we're known for doing things a little differently. Our karaoke is no exception! With a live band as backing, our Faded Karaoke offers a totally new experience that you won't soon forget.
The event has been going strong for a year, and we're ready to celebrate! We hope to see you on March 24th for what promises to be an amazing event: the 1 Year Faded Tour!
Curious to check it out? Make a reservation today, and start practicing your favorite song for when you get on stage!
Have you experienced Faded Karaoke at The Barbershop?