February Line up At the Barbershop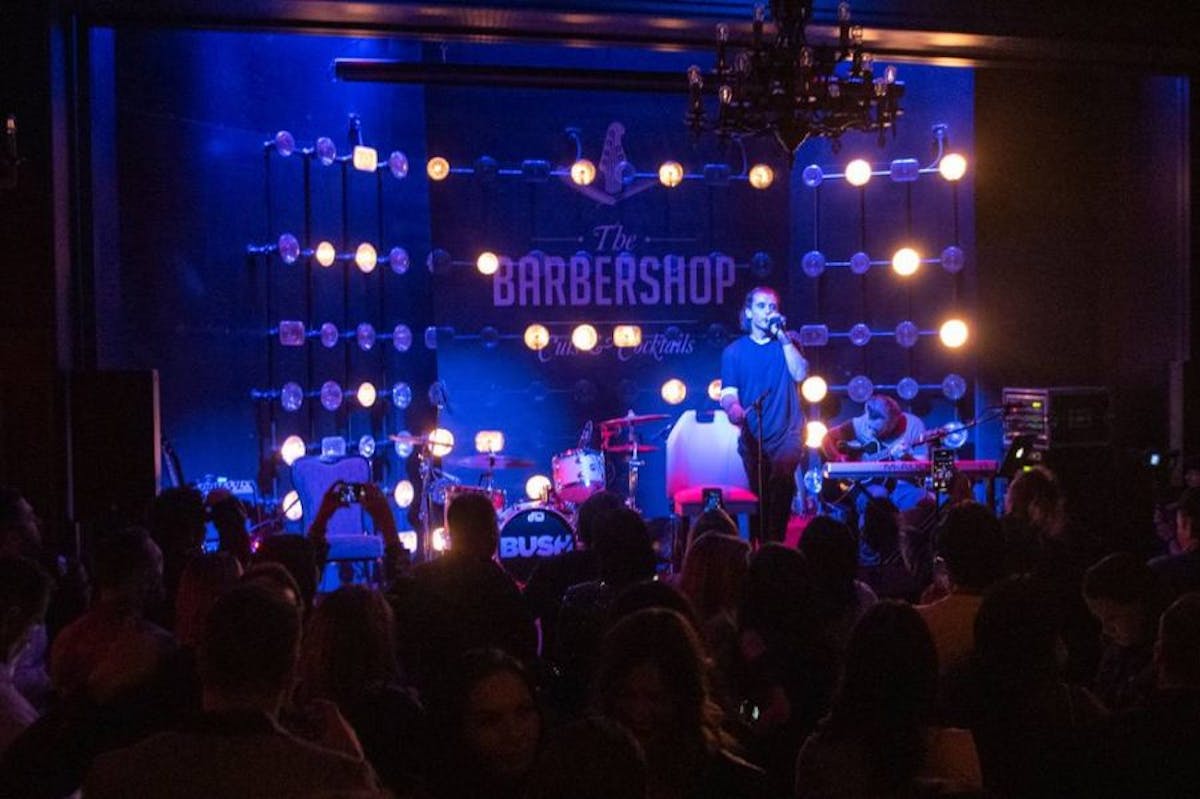 FEBRUARY EVENTS LAS VEGAS
The Barbershop is known for bringing amazing music to Las Vegas, and our February lineup doesn't disappoint. Come hear some of your favorite returning acts, as well as some new groups sure to bring unique sounds and great performances to The Barbershop.
TUESDAY, FEBRUARY 11TH: FADED KARAOKE
Have you always wanted to try karaoke but never had the nerve? Or are you a karaoke legend among your friends? On Faded Karaoke nights, the stage is yours at The Barbershop. Bring your best singing voice and your favorite karaoke songs, then cut loose on stage and show us all that you were meant to be a star.
THURSDAY, FEBRUARY 13TH: SHOWCASE THURSDAY
On Showcase Thursday, don't miss the chance to come hear some of the newest music in Las Vegas. Catch great acts in our intimate venue before they hit it big.
FRIDAY, FEBRUARY 14TH: HEAVY PETTING ZOO
Barbershop favorite Heavy Petting Zoo is back for Valentine's Day! Be sure to read our interview with Pete Love of Heavy Petting Zoo, then make sure that you don't miss this show. Grab your Valentine or get together a group of your best friends and make a reservation now.
SATURDAY, FEBRUARY 15TH: THE 442'S
The 442's are one of the most popular acts at The Barbershop, and it's easy to see why. These talented musicians incorporate jazz, classical, folk, and rock influences into a set that breaks the boundaries of any single music genre. The 442's are known for their incredible improvisation skills and the group singing that they incorporate into their performances. No two sets will be the same, so make sure you don't miss this appearance!
SUNDAY, FEBRUARY 16TH: RAWHIDE – COREY BROWN TRIO
TUESDAY, FEBRUARY 18TH: FADED KARAOKE
It's your time to shine. Start practising your favorite songs and be ready to take the stage during Faded Karaoke.
THURSDAY, FEBRUARY 20TH: AMERICAN RIVIERA
American Riviera is based in Las Vegas. This musical collaboration began on a climbing trip to the Red Rocks, where the musicians met. They became great friends after and have gone on to create music together.
FRIDAY, FEBRUARY 21ST: HEAVY PETTING ZOO
Heavy Petting Zoo returns for another night of great music.
SATURDAY, FEBRUARY 22ND: EVERY WOMAN BAND
They rocked The Barbershop during our Battle of the Bands with their powerhouse songs spanning the 60s all the way up to modern-day hits. The Battle of the Bands winner, Every Woman Band, returns with their distinctive take on rock, pop, disco, and dance hits.
SUNDAY, FEBRUARY 23RD: RAWHIDE – THRILLBILLY DELUXE
Things get a little bit country on Sundays at The Barbershop. Based out of Las Vegas, Thrillbilly Deluxe is a country group that plays their own music plus classic and modern country covers. Their influences include Kenny Chesney, Merle Haggard, Garth Brooks, Elvis Presley, Eric Church and more.
TUESDAY, FEBRUARY 25TH: FADED KARAOKE – MARDI GRAS EDITION
Celebrate Mardi Gras with another great night of Faded Karaoke.
THURSDAY, FEBRUARY 27TH: STANLEY AVE
Las Vegas-based band Stanley Ave was founded in 2018, but has already established its own, unique sound. Each performance bends genres and entertains – come hear some great local music.
FRIDAY, FEBRUARY 28TH: HEAVY PETTING ZOO
Heavy Petting Zoo is back, and this is one performance that you won't want to miss!
SATURDAY, FEBRUARY 29TH: THE 442'S
The 442's are back. Don't miss this talented group!
SUNDAY, MARCH 1ST: RAWHIDE – HUCKLEBERRY HICKS
February at The Barbershop is full of great entertainment, but with so many popular acts, these nights will probably fill up. Make sure to RSVP now so that you and your friends don't miss out on these acts. Then, enjoy some of the best music you'll find in Vegas.